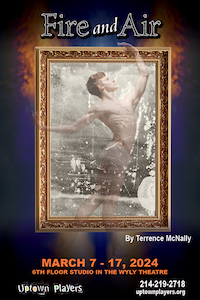 Uptown Players announces auditions for the regional premiere of the Terrence McNally's Fire and Air, which runs March 7 through March 17 at the Sixth Floor Studio Theater inside the AT&T Performing Arts Center. This production promises to ignite the intimate stage with its passionate storytelling and thought-provoking exploration of art, love, and the pursuit of perfection.

Set in late 19th-century Russia and early 20th-century France, Fire and Air delves into the tempestuous relationship between two legendary figures in the world of ballet: impresario Sergei Diaghilev and dancer Vaslav Nijinsky. Diaghilev, the founder of the renowned Ballets Russes, and Nijinsky, a groundbreaking male dancer, form a complex bond that intertwines artistic brilliance, personal desire, and the conflicts that arise from the pursuit of artistic excellence. McNally's masterful script beautifully captures the tension between Diaghilev's insatiable ambition to create groundbreaking ballets and Nijinsky's struggle to balance his artistic expression with his own inner demons. The play delves deep into their passionate connection, their conflicts, and the sacrifices they make for their art.

With its richly drawn characters and captivating dialogue, Fire and Air provides a compelling glimpse into the world of ballet during a time of cultural upheaval. Audiences will be transported to the opulent and decadent world of the Ballets Russes, where creativity and personal relationships collide, leaving an indelible mark on the history of dance.

Actors of all ethnicities, and gender identities encouraged to audition as our casting seeks to be as inclusive as possible. All roles are open to both union and non-union actors of all ethnicities. A light Russian dialect will be used in this production. There are at least two LOA/LORT principal equity contracts available for this production. The production is under the direction of Cheryl Denson.

Sergei Pavlovich Diaghilev, 35-40, a Russian ballet impresario. Strong presence and founder of the Ballet Russes.

Dunya, 55-65, Sergei's nurse and nanny since birth

Dmitry "Dima" Filosofov, 40-50, Sergei's oldest and best friend and first cousin

Vaslav Nijinsky, a ballet dancer. The play takes him from late teens to late twenties. Although there are no large dance sequences in this play, some dance or ballet experience would be beneficial.

Leonide Massine, early 20's, a dancer and choreographer who created the first symphonic ballet, he was a contemporary of Nijinsky. Some dance or ballet experience would be beneficial.

Misia Sert, 30-40, an attractive and alluring friend of numerous artists, she made creative and financial contributions to Sergei. He consulted closely with her on elements of this innovative dance company.

Auditions will be held by appointment on Sunday, September 24 from 1pm to 7pm at the Uptown Players offices, 1327 Motor Circle, Dallas TX 75207. Callbacks will take place on Monday, September 25 from 6pm to 10pm at the same location.

To sign up for an audition appointment, go HERE. Video submissions will also be accepted and must be submitted no later than September 18. Click HERE to submit your video, headshot, and resume.

Auditions will consist of reading selections from the script using sides posted on the website and in the signup site. A headshot and resume are required. The auditions and callbacks will follow all Actors Equity Association COVID protocols, including vaccination and COVID testing requirements during rehearsals.

Rehearsals begin February 8 at the Uptown Players offices and will be evenings and weekends. The production will take place at the Sixth Floor Studio Theater, 2400 Flora Street, Dallas, TX 75201 from March 7 through March 17, with 6 performances per week in the 150-seat venue.
​​​​​​​





​​​​​​​